PARKING/AUTOSTĀVVIETAS
FIRST WE HAVE NEWS, THERE WILL BE OFFICIAL DMEC PARKING NEAR TO DMEC MAIN ENTRANCE/ IZMANTO STĀVVIETU TIEŠI BLAKUS GALVENAJAI IEEJAI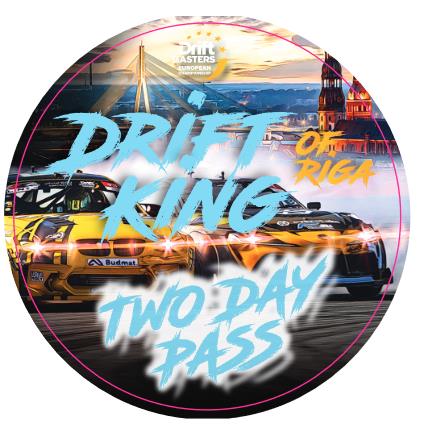 KOPĀ IR PIEEJAMAS 3 OPCIJAS/ THERE IS 3 OPTIONS

1) BEZMAKSAS AUTO STĀVIETA UZ IELAS, LŪDZAM SEKOT LĪDZI ZĪMĒM, UN VIETĀM KUR ATĻAUTS APSTĀTIES

2)AUTO STĀVIETA TIEŠI BLAKUS GALVENAJAI DRIFTA IEEJAI, JEB IEEJAI NR.8 no 08:00-00:00 CENA 3 EUR VIENA DIENA 5 EUR DIVAS DIENAS, STĀVVIETA IR TIEŠI BLAKUS IEEJAI!

3) VIP STĀVVIETA TRASES TERITORIJĀ, DIVU DIENU IEBRAUKŠANA, 20 EUR- IEGĀDĀJOTIES VIP AUTO STĀVVIETU, TĀ DARBOJAS TIKAI KOPĀ AR IEEJAS BIĻETĒM, VIP AUTO STĀVVIETA ATRODAS TRASES TERITORIJĀ, KURĀ VAR NOOPARKOT AUTO UN DOTIES UZ SAVU IEGĀDĀTO SEKTORU

PARKING LOT:
1) FREE PARKING ON THE STREET, BUT THE PROMOTER INVITES TO FOLLOW CAREFULLY THE SIGNS WHERE TO STOP
2) PARKING AT THE TRACK, NEAR THE ENTRANCE. PAYMENT 3 EUR ONE DAY- 5 EUR 2 DAYS, PARKING IS DIRECT NEAR TO MAIN ENTRANCE

3) IT IS POSSIBLE TO PURCHASE A VIP PARKING PASS, WHICH GIVES THE POSSIBILITY TO PARK THE CAR IN THE TERRITORY OF THE TRACK - IN THE VIP PARKING, BUT NOT IN THE PADDOCK. FEE 20 EUR FOR BOTH DAYS, VIP PARKING PASS WORKS TOGETHER JUST WITH VALID EVENT TICKETS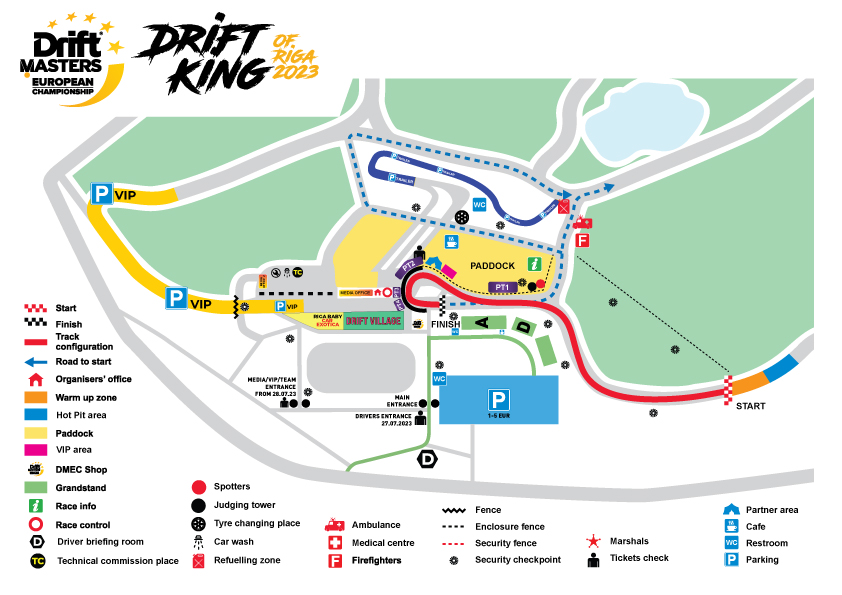 Bez saskaņošanas ar organizatoru, sacensību, sacensību mājas lapas, sacensību biļešu izmantošana reklāmas un mārketinga kampaņās, izlozēs, akcijās, loterijās un konkursos un / vai citās aktivitātēs, ir stingri aizliegta.