Ar vispasaules atlaižu dienu tiek atklāta arī ''Drift King of Riga 2020'' biļešu tirdzniecība
Ar vispasaules atlaižu dienu tiek atklāta arī ''Drift King of Riga 2020'' biļešu tirdzniecība
"Drift King of Riga" sacensības jau vairākus gadus ir viens no lielākajiem drifta notikumiem Eiropā un, iespējams, arī pasaulē. Katru gadu Biķerniekos ierodas vairāk kā 40 sportisti no vairāk nekā 20 valstīm. Papildus sacensībām notiek dažāda veida šovi, ģimenes izklaides, auto izstādes. "Drift King of Riga" savu atpazīstamību pasaulē ir ieguvis ar saukli #rigababy.
No šodienas, 29.novembra 10:00 rītā, ''Biļešu Servisa'' tirdzniecības vietās tiek uzsākta "Drift King of Riga 2020" ieejas biļešu tirdzniecība. Ieejas biļetes cenas nākamgad būs atkarīgas no izvēlētā skatīšanās sektora, kas arī būs jaunums drifta sacensībās, jo pirmo reizi drifta vēsturē arī galvenās Biķernieku tribīnes tiks dalītas sektoros. Vēlamies atgādināt, ka biļešu skaits ir limitēts, atbilstoši sēdvietu skaitam katrā tribīne. Katra iegādātā ieejas biļete paredzēta tikai vienai personai, un tā ļaus apmeklēt abas sacensību norises dienas, gan piektdienā, gan sestdienā. Sākot ar 29.11.2019, pirmās 100 biļetes katrā sektorā būs nopērkamas par izdevīgāku cenu.
Galvenās pārmaiņas tika ieviestas uzklausot apmeklētājus - Biķernieku tribīnes šoreiz tiks dalītas divos sektoros - A un D. Apmeklētāji, kuri būs iegādājušies konkrētā sektora vietu, varēs būt pilnīgi pārliecināti, ka viņiem vieta tribīnēs tiks garantēta. Izmaiņas būs arī dalībnieku parkā - ja iepriekš dalībnieku parka tribīne bija pieejama visiem ar dalībnieku parka biļetēm, ieskaitot sportistus un viņu komandas, šoreiz tā būs pieejama tiem apmeklētājiem, kuri būs iegādājušies dalībnieku parka biļetes, kas garantēs viņiem vietu speciāli būvētajā tribīnē, kurā arī būs noteikts sēdvietu skaits. Arī 2020. gadā būs VIP sektors ar atsevišķi izbūvētu VIP zonu un VIP tribīni. Ar sīkāku aprakstu par tribīnēm iespējams iepazīties www.driftkingofriga.com sadaļā skatītājiem.
Visiem drifta līdzjutējiem būs iespēja klātienē vērot Eiropas labākos drifterus, kuri cīnīsies par uzvaru tepat Latvijā - Rīgā, Biķernieku trasē. Ieejas biļešu cenas ir pakārtotas atbilstoši tribīņu izvietojumam un trases pārredzamībai. Sēdvietas tribīnēs nebūs numurētas, ļaujot skatītājiem pašiem izvēlēties sev vēlamo skatu vietu.
Piektdienas vakarā no 18:00 un sestdienas vakarā pēc sacensībām, dalībnieku parks būs atvērts visiem skatītājiem, sniedzot iespēju satikt braucējus un aplūkot sporta automašīnas, tāpat galvenajā sacensību dienā būs dažādi šovi, atrakcijas visai ģimenei un auto izstāde, kuru varēs apmeklēt jebkurš sacensību apmeklētājs.
Arī šogad organizatori, ievērojot skatītāju vēlmes, biļešu tirdzniecību uzsāk pirms Ziemassvētkiem, jo biļete uz pasaules līmeņa drifta sacensībām būs fantastiska Ziemassvētku dāvana vai dāvanas papildinājums, un šāda dāvana spēs iepriecināt ikvienu drifta līdzjutēju.
Tiekamies trasē!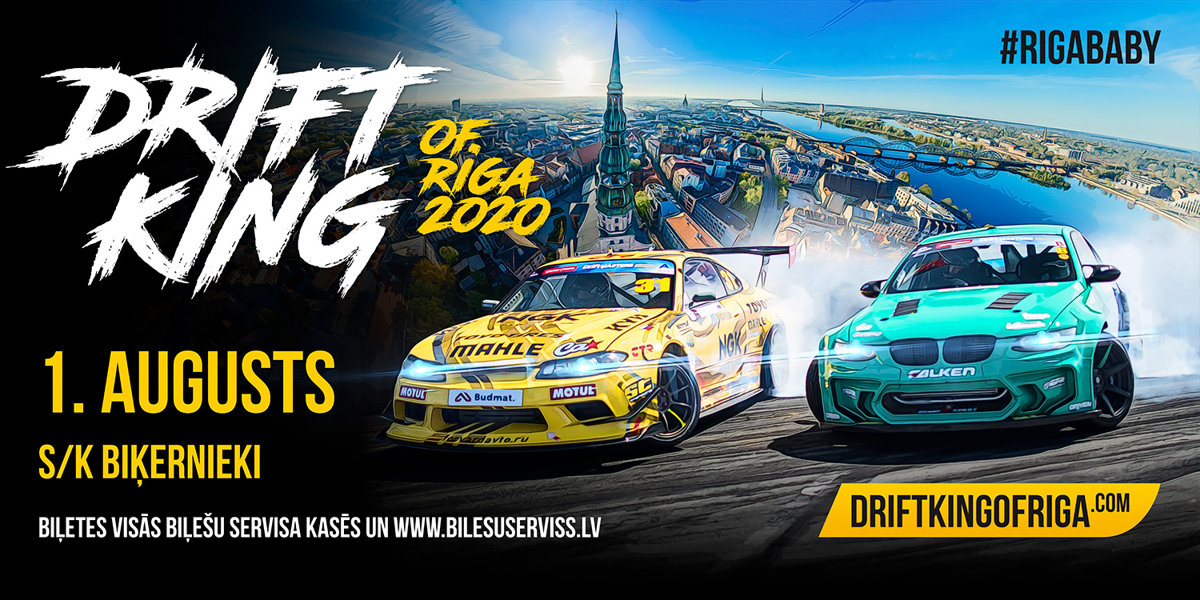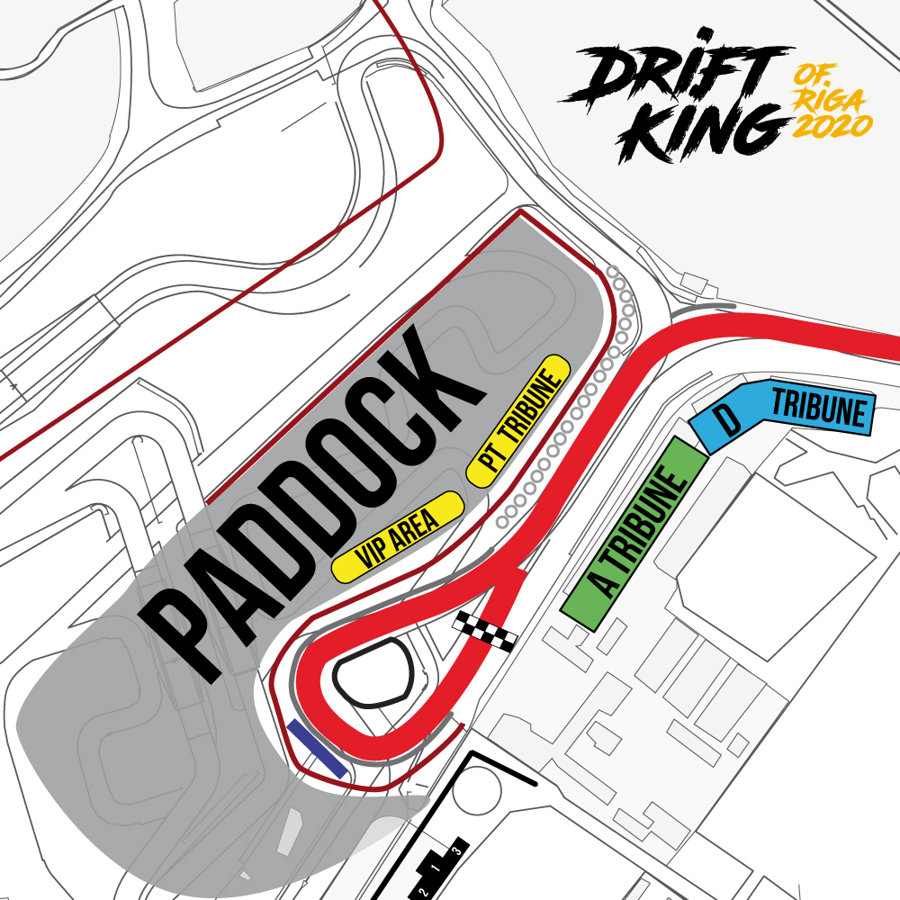 Black Friday launches ticket sale for Drift King of Riga 2020.
"Drift King of Riga" competition for a few years has been one of the biggest drift events in Europe and possibly the world. Every year at race track "Biķernieki" over 40 drivers from more than 20 countries gather together for a spectacular competition. In addition to the competition, different events are also taking place, such as entertainment shows, family-friendly workshops and car exhibitions. "Drift King of Riga" its recognition all over the world has acquired with the help of slogan #rigababy.
Starting from 29th of November 2019, entrance ticket sale for "Drift King of Riga 2020" has begun at sales network "Biļešu serviss". Entrance ticket price for next years competition will be dependant on the chosen sector at the grandstands. This is going to be a new addition at the competition because, for the first time in history, the main stand at the track "Biķernieki" will be divided into sectors. We would like to remind, that the number of tickets is limited, based on the number of available seats. Each purchased ticket is intended for one person only, and it grants access to both days of the competition - Friday and Saturday. From 29.11.2019, first 100 tickets in each sector will be purchasable for a more friendly price.
Main changes were implemented based on the reviews of spectators- grandstands at the "Biķernieki" track will be divided into two sectors – A and D. Spectators, who have purchased tickets at the specific sector can be completely assured that their seats at the stands are going to be guaranteed. Changes will also affect the paddock- before everyone with the paddock pass was able to gain access to it, including drivers and their team members. This time around it will only be accessible to those spectators, who have purchased paddock passes, that guarantees them a seat at a specially built stand with a limited amount of seats. VIP sector with a separately built VIP zone and grandstand will also be available for the 2020 season. More details about the grandstands can be found at www.driftkingofriga.com section Spectators.
All drift fans will be able to see Europes best drift drivers in person fighting for the win here in Latvia, Riga, "Biķernieki" track. Entrance ticket price is dependant on the chosen sector according to the grandstand placement and track visibility. Seats at the grandstands are not numbered, allowing spectators to choose their own seating.
On Friday evening after 6 PM and on Saturday after the competition, the paddock will be available for every spectator, providing a chance to meet the drivers and see the drift cars up close. Also, on the main day of the competition, different entertaining shows, family-friendly activities and car exhibition will take place and these events are available to every spectator of the competition.
This year competition organisers, respecting spectators wishes, will start ticket sale before Christmas, because the ticket to a world-class drift competition has a potential of a fantastic festal gift or an addition to any gift and will make each and every drift fan delighted.
See you at the track!
Nav komentāru
Komentēt