Jauna tradīcija Biķerniekos pirms drifta, un bezmaksas iespēja visiem satikt braucējus
Jauna tradīcija Biķerniekos pirms drifta, un bezmaksas iespēja visiem satikt braucējus
RIGA BABY SHAKEDOWN 2019 (LV)
Jauns koncepts drifta parādei, kas līdz šim bija risinājusies pa pilsētas ielām – šoreiz parāde notiks Biķernieku trasē!
Ieeja ir no 18:00 un tā ir bez maksas! Jebkurš apmeklētājs ir laipni gaidīts Biķernieku trasē, kur būs iespējams aplūkot jaudīgās drifta automašīnas, satikt braucējus un iegūt autogrāfus.
No 18:50 drifta spēkrati stāsies kopīgi uz Biķernieku trases galvenās starta taisnes, kas būs atvērta skatītājiem! Tā būs unikāla iespēja satikt visas drifta zvaigznes vienkopus.
Ap 19:20 tiks dots parādes oficiālais starts un visi drifteri vienlaicīgi dosies parādes braucienā cauri visai Biķernieku trasei. Tomēr tas vēl nav viss, jo pēc parādes apļa braucēji atgriezīsies starta taisnē, no kuras viens pēc otra viņi tiks laisti atpakaļ trasē, lai izmantotu līdz šim nebijušu iespēju – driftēt visus trases līkumus! Skatītāji aicināti iespaidīgo RIGA BABY SHAKEDOWN vērot gan no elkoņa tribīnēm, gan no Raganas katla meža kalniņiem.
Gan no braucēju, gan skatītāju puses noteikti ir jautājums – kādēļ šogad vairs nav parāde pa pilsētas ielām? Tas saistīts ar likuma izmaiņām, kas turpmāk vairs neatļaus šāda veida parādes ar sporta automobiļiem. Tādēļ sacensību organizatori ir parūpējušies par jaunu un vēl nebijušu parādes formātu Biķernieku trasē.
RIGA BABY SHAKEDOWN 2019 (ENG)
New concept for the traditional street parade – this time it will happen at Bikernieki Circuit!
Entry is from 18:00 and it will be for free! All visitors are welcome to join Bikernieki Circuit, where it will be possible to see powerful drift cars, meet drivers and get autographs.
From 18:50 the drivers will park their cars on the main Bikernieki start/finish straight, which will be open for spectators! This will be a unique opportunity to meet all the drift star drivers in one place.
Around 19:20 will be the start of the official parade and all the drifters will go on a drive through the whole Bikernieki Circuit. But that's not all, because after the parade lap they'll come back to the main straight, from where they will go one-by-one back into the track to take advantage of an unprecedented opportunity – drifting all corners of the unique Bikernieki Circuit! Spectators are welcome to watch the impressive RIGA BABY SHAKEDOWN from the first (elbow) corner or from the woods of "Witch Kettle".
Of course, from both drivers and spectators comes the question – why isn't the traditional street parade happening? It's linked to changes in law, which from now on will forbid such parades for race cars. That's why the organizers have come up with a new and unique parade at Bikernieki Circuit.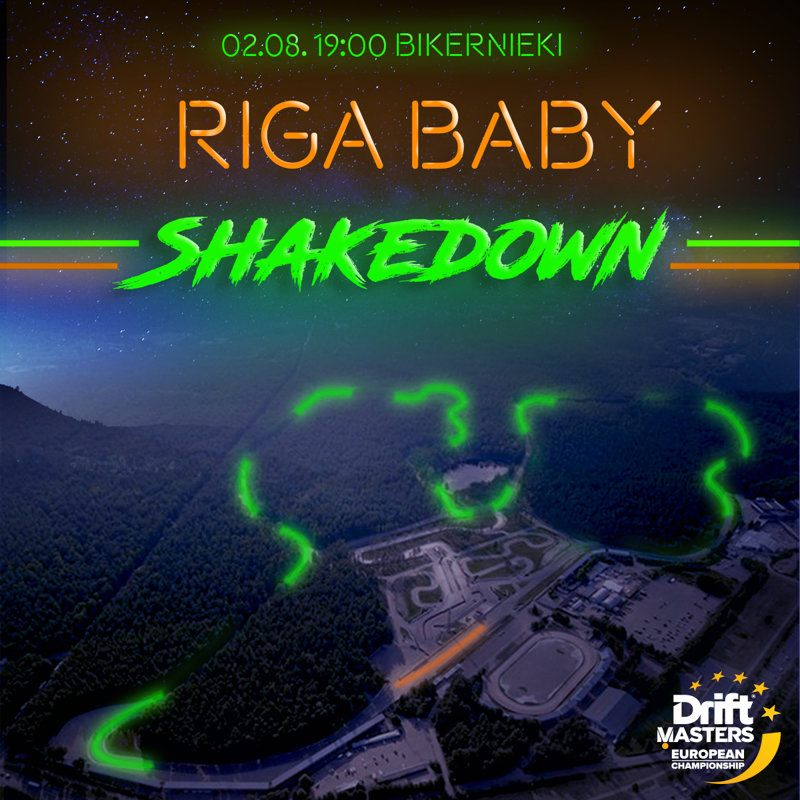 Nav komentāru
Komentēt