Measures to reduce the spread of Covid-19 virus
Due to national restrictions related to the COVID-19 pandemic, please be responsible for yourself and others and observe the following requirements during the event:
Use the opportunity to wash your hands or disinfect them with disinfectants (pay attention to the disinfection points located in the territory of the track);
PLEASE READ! We would like to share the information about COVID - 19 safety measurements and testing.
Foreign drivers and support staff may arrive in Latvia from other countries without self-isolation according to regulations of Centre for Disease Prevention and Control, and participate in International sporting event after
EVERY DRIVER NEED TO FILL REGISTRATION LINK FOR TEAM MEMBERS- NOT LATER THEN 23.07.2021, SHOWING ALL NAMES AND SURNAMES, AND OTHER ASKED INFORMATION
https://docs.google.com/forms/d/e/1FAIpQLSdDcn-6raHZXdcInW4k0WNLUo3lWRH8KHOrqoaDOFemIrje4w/viewform?usp=sf_link
This event will be fully run under the new European Green Pass Regulations, which means teams will only be able to enter the event with:
- Confirmation of vaccination OR
- A Negative PCR Test (not more than 72 hours before the event)
If you don't have neither vaccine sertificate our negative PCR test, you can make PCR test n place in track, please also fill this form until 23.07.2021
https://docs.google.com/forms/d/e/1FAIpQLSfZoL_A0Fgm0EoBLTmx8gg_ruXuid9yjB5vLN7JEk5jY0YJ1g/viewform?usp=sf_link
During the event there will be no restrictions for those who have either a confirmation of vaccination or a negative PCR test (within the last 72 hours) shown to accreditation team, together with showing your personal data, to get all wristbands,at the entrance to the event. If you require a negative PCR test in order to travel out of Latvia back to your home country, please also register for PCR tests which you can make in track:
https://docs.google.com/forms/d/e/1FAIpQLSfZoL_A0Fgm0EoBLTmx8gg_ruXuid9yjB5vLN7JEk5jY0YJ1g/viewform?usp=sf_link
Masks have to be wear on all the time at the track when you can't be 2 m distance, and when you stand and look drift together with other people, when you come to drivers briefing and other places, where you are with others not just with your team.
All Drift Masters participants will always have to take with them the passes (team, crew, etc.) issued by organizer during the competition.
Entrance to the service park may be restricted, prohibiting the public or another competition group from attending, if government will issue rule like that, whom we need to follow.
The organizer may impose strict restrictions on access to the race if that can come necessary.
The organizer of Drift Masters Latvia stage has the right to determine the participants to wear a face mask and / or other personal protective equipment, to measure the body temperature or to set other restrictions in certain competition places, if that can come necessary, not at the moment.
The rules apply to all representatives of teams, including participants from Latvia. PLEASE FOLLOW UP ANY INFORMATION FROM ORGANIZER ABOUT SITUATION, IF SOMETHING CHANGE, TO SECURE YOUR AND OTHER PEOPLE HEALTH!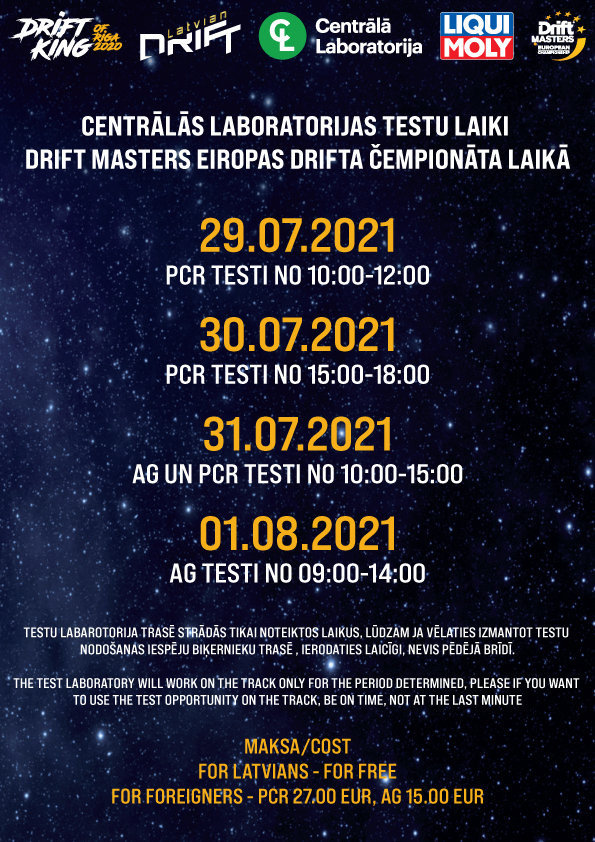 COVID 19 – DRIVERS FROM RED ZONE COUNTRIES
Drivers & Teams from red countries, if your countries are in red zone, you will be treated like athletes and not tourists, and if you are coming from Red Zone Countries you do not have to have quarantine, but we do still need to stick to these strict rules
Each Delegate, Official, Media crew member, Competitor, and Team member from abroad can request a Letter of Invitation for the Latvian event, which can be presented to the border patrol or police as required. In order to issue the letter, each attendee must submit the Individual form no later than 25th July 2021 to the Organizer e-mail: eline@driftlatvia.com
Additional key requirements from the Latvian Government:
Visitors must constantly monitor the health situation and must be prepared for random health checks (body temperature measurement, Covid - 19 testing) while in Latvia.
Visitors can be engaged only in drift related activities while staying in Latvia, f.e., do not use public transportation, do not visit social and public places including bars and restaurants, not move around in crowded places.
Is required to be without any symptoms of illness,
We thank you very much for your time and effort!
If you have any additional questions, please, don't hesitate to ask Organizers Team.
Organizers urge everyone to install the Apturi Covid app (national Covid-19 tracing app) on their phones.
Every accredited person will be required to fill in forms about their travels, stay in Latvia, contacts and other relevant information for the purpose of general safety and monitoring of Covid-19 spread. You will do this during DMEC registration or upon arrival at the track. All data will be processed by the organizer according to the General Data Protection Regulation and will be destroyed 30 days after the DMEC event.
IF NOONE OF TIMES FOR PCR TESTS- DO NOT WORK FOR YOU, WE HAVE OTHER SUGESTIONS TO HELP YOU:
Book a visit to a Covid-19 testing site by phone:
Phone for centralised Covid-19 testing - 8303

Central Laboratory - 8330

E. Gulbja Laboratory - +371 67801112

MFD Laboratory - 8313

NMS Laboratory - +371 67144015

State Scientific Institute "BIOR" - +371 28369560

IvF RIGA Holding Laboratory - +371 25444405
Book a visit to a Covid-19 testing site electronically:
· E.Gulbja laboratory: https://www.egl.lv/en/login/?auth
· Central laboratory: https://pieraksts.laboratorija.lv/en/profile/login/
· MFD http://www.mfd.lv/en/covid-19
· Bior https://bior.lv/en/form/covid
AND OPTION WHICH CAN BE USED ANY TIME- BECOUSE THIS WORKS 24 HOURS
Automated clinical analysis dispense / collect machine
Collect machine is located next to the shopping park ALFA, which is located 2km from the Bikernieki track.
The contactless dispense / collect machine is available every day, 24 hours a day (00-24).
Additional information – info@egl.lv.